Research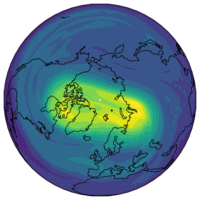 Resources
I have made animations of 850 K (mid-stratosphere) potential vorticity over all winters from 1979-2009. View/download them here.
I have written a python package to calculate moment diagnostics of a polar vortex, using either geopotential height or potential vorticity. See the Github repository for more details
The transformed Eulerian mean diagnostics calculated in Seviour et al. (2012) are available to download here.